eMaaS - Electric Mobility as a Service
Our project Electric Mobility as a Service (eMaaS) combines highly innovative technology and new business models to create the conditions for large scale adoption of Electric Vehicles (EV). We can achieve this by enabling sharing of EVs thus optimizing their utilization and reducing cost. This combination will make EVs functionally and cost equivalent to Internal Combustion Engine Vehicles (ICEV) by replacing individual ownership of vehicles with shared EVs which are utilized on-demand, as a service. "Sharing" will become the underlying principle of enterprise mobility. In addition, we connect EV sharing services to other eco-friendly modes of mobility. Finally, we put our users at the centre and work towards easily accessible solutions.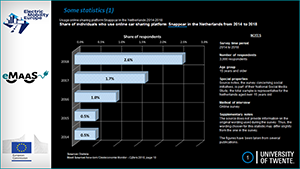 Car sharing market
- University of Twente (NL) is working on the market analysis. In this presentation you will find some very interesting statistics about the European Car Sharing market.>
---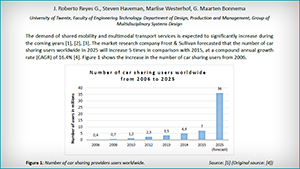 New business models and market analysis towards electric Mobility as a Service (eMaaS)
- University of Twente (NL) - J. Roberto Reyes G., Steven Haveman, Marlise Westerhof, G. Maarten Bonnema
---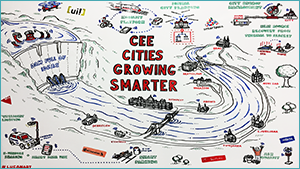 Central and Eastern Europe will be an important market for Electromobility
- This funny graphics that was produced in a Budapest meeting organized by [ui!] Hungary shows how this region of Europe is catching up with smart city solutions, including Electromobility and sharing economy.
What is the core of the project?
The largest phase of the eMaaS project are the pilots. They aim to demonstrate and commercially scale up in each partner country. The pilots are specifically tailored for the local conditions and the existing partner systems as well as the fleets and city transport policies and needs.
In Sweden we will implement and test the solution in two city clusters focusing on municipalities and corporate fleets. The Mobility on Demand programs of the clusters will be linked to the overall solution. The first corporate cluster is around Gothenburg, Westcoast and Stockholm region. The second one is a cluster of the municipalities Lund, Tranås, Varberg, Trollhättan, Mölndal and Knivsta.
The eMaaS solution makes EV sharing in Austria more accessible and support multi-modal integration. The main task is to expand the current EV fleet of local partners by encouraging a wider use of electric vehicles.
Testing and rolling-out new functionalities in practice is the main objective in the Netherlands. We want to unite the fragmented e-mobility solutions by offering bikes as well as cars and public transport options. Thereby, we want to increase the attractiveness of eco-friendly mobility. In Hungary eMaaS will enable the local fleet of the city of Zalaegerszeg to share EVs. The cloud-based solution will be adapted for the specific needs in Hungary. They will develop a localization toolkit for local markets. Therefore, they enable the solution to be used in other countries as well.
The four pilots are supported by the University of Twente, who make sure of the user friendly design of the solution and define measurements for evaluation.
To achieve our goal of increasing the adoption of electric vehicles, we use the combined knowledge of our partners to analyse and demonstrate a cloud-based solution run on an open urban platform. This kind of platforms allows with its interface architecture the addition of legacy systems and thus enables corporate fleets to offer sharing schemes. This will include EV fleet management applications that both enable sharing of EVs between fleet users and provide a range of fleet management functions. Including real-time routing, scheduling, operator matchmaking maintenance planning and billing. We integrate with our solution advanced vehicle telemetry to provide real-time accurate battery usage, location and routing.
We will also innovate the business model to allow EVs to directly compete with ICEV and offer attractive mobility solutions. The toolkit is a comprehensive suite of cloud based fleet management applications that allows existing SME providers of EV fleets (current EV fleet market is dominated by SMEs) to enjoy the same management functions as existing large scale ICEV fleets and thus reducing operational costs and providing equivalent service performance. Finally, the pilots showcase is the ability to offer similar eMaaS services across the EU, due to the common solution, creating further scale and supporting international fleets & journeys.
One of our Consortium Partners, GoodMoovs, asked to Present at WoCoMoCo Conference
On 5th, 6th and 7th November, the Swiss Mobility Academy will be hosting its 6th World Collaborative Mobility Congress – "WoCoMoCo" – in Rotterdam, Netherlands. Key players from all over the globe gather here to exchange their views and present their latest innovations in the thriving markets of car-, ride- and bike-sharing.

One of our consortium partners, GoodMoovs, was asked to present the eMaaS project during the WoCoMoCo in Rotterdam. Mr. Flip Oude Weernink CEO of GoodMoovs will present the current status of our project, the relation to the MaaS pilots in NL and the role of GoodMoovs in this.
It is worth to have a look at the conference program.
Date: 22 April, 2018
Urbis Smart City Fair in Brno (Czech Republic) is a unique space for sharing ideas and practical designs on how to bring to life and develop the concept of a smart city in central European towns and villages. Several thousand participants from the region have exchanged ideas in the workshops and visited the exhibition. 
UI Hungary ran a booth and delivered a lecture about Urban Pulse and its role in the eMaaS project and its role in the planned electro mobility solution. The audience of about 80 people was interested in our topics as it was visible from the number of questions.